The February assigment of Lilla Roger's MATS Bootcamp was quite a creative and emotional rollercoaster ride for me. The "mini" for the warm-up week was to look at vintage scenic plates, be inspired and draw your own scenes. I discovered, that I especially liked the Japanese plates with landscape scenes. And I must admit, that I don't consider drawing scenes one of my strenghts, but rather a challenge. So I didn't draw very much and spent more time noticing what I liked and see what the creative bunch was up to in the Facebook group. When the main assigment was revealed the following week, it was quite a surprise. No plates were to be designed, but painting a scene on a wood slice. Real painting with real paint on real wood! Even though I do consider painting something of a homezone, there was still that "scene" part. Abstracts, flowers and emotions anytime, but scenes? So I procrastinated and procrastinated and blamed it on the impossible mission to find wood slices in Northern Germany. And that didn't feel good. I found a round canvas in my studio and played around with paint a bit and superimposed it on a wood slice photograph.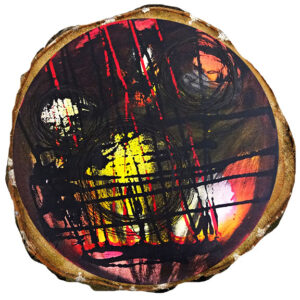 I think, this thing shows my confusion and the struggle with the assignment very well. Where is the scene? The creative bunch in the Facebook group showed cute scenes of animals, and girls and flowers. That was not my thing. But I didn't give up (even though I was close to) and prayed and surrendered and looked at Pinterest. At one point near the assigment deadline I had my aha-moment and I remembered a scene.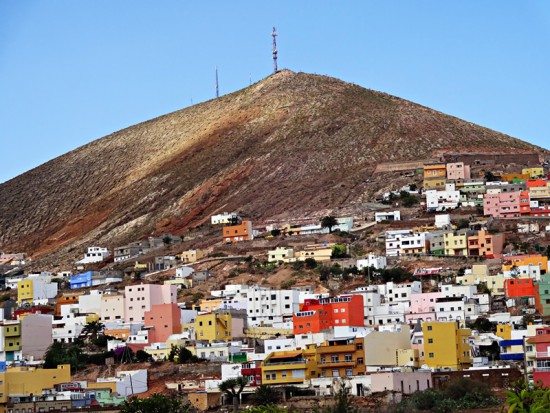 The town of Gáldar on Gran Canaria, that we visited during our holiday there last autumn. When we drove by that mountain, I took photographs and thought that I would really like to use this for inspiration later on. Later on was now. As I still wasn't able to find wood slices I stayed with the canvas board and had a lot of pleasure painting my submission: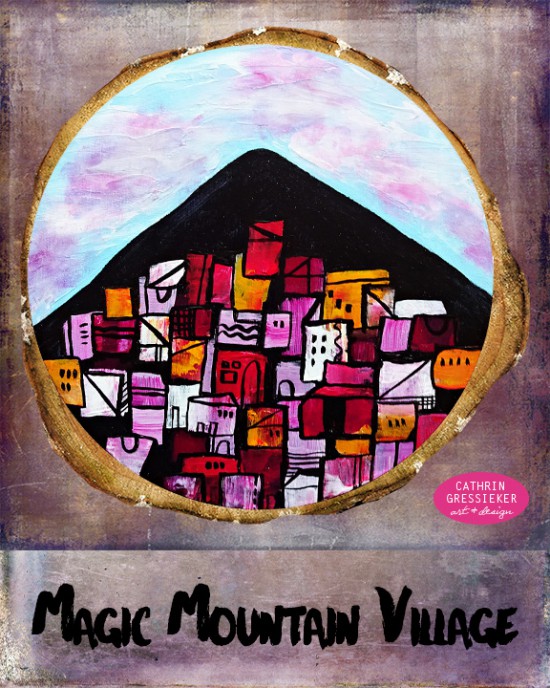 That felt beautiful and I couldn't resist putting this painting into a little mock-up scene.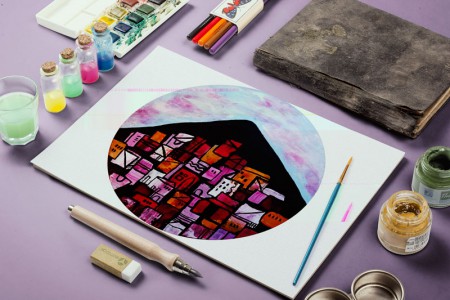 A total fake, my painting process is usually so messy ;-).
You can view the whole February class gallery here.