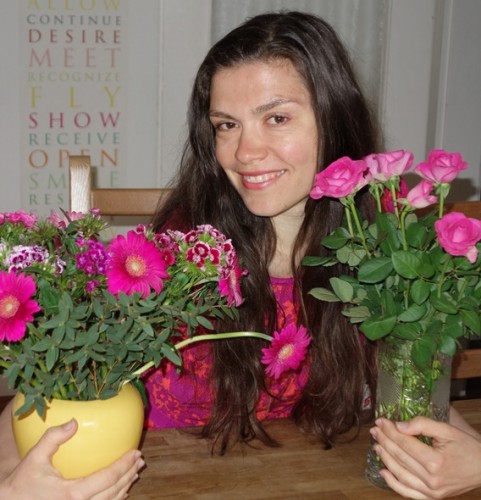 After having lived in London, Cologne and Berlin studying art and communication, I graduated from the Berlin University of Arts with a degree in audiovisual communication in 2004. I worked as a travel editor for a TV station, travelled around the world, became a yoga teacher and mama and came back to art.
I am endlessly inspired by nature, all things flora, colour and travelling (especially to Asian and tropical countries).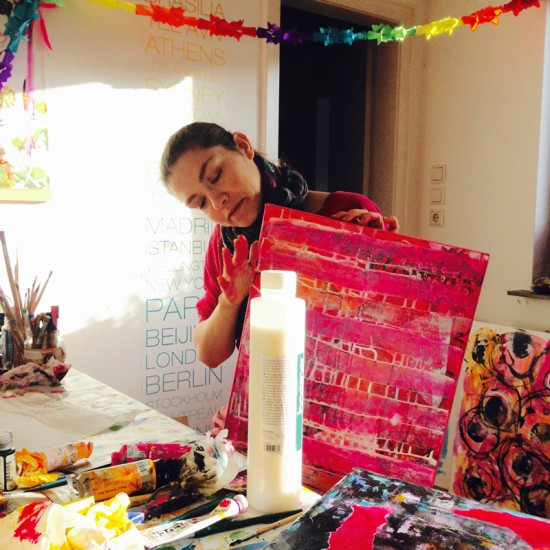 Painting is an intuitive and explorative process for me, much like travelling. With my background in painting, most of my pattern designs start out as watercolour or acrylic paintings and pen and ink sketches, which are then further developed digitally.  As much as my personal painting process is important for me, my pattern design process is very much influenced by trend research and going to textile trade shows. I create unique, feminine patterns for the apparel, activewear and home décor markets, often with floral and tropical motifs as well as richly textured abstract patterns.
I work closely together with a Milan textile agency who sells my designs to top clients across Europe. Online you can find me represented by the Patternbank agency. I am very happy each time I see my designs on apparel, active- and swimwear worldwide.
I am a graduate of The Art and Business of Surface Pattern Design-course with Rachael Taylor and the Make Art that Sells-course with the Lilla Rogers Studio. I am an active member of the Textile Design Lab of Pattern Observer and participate regularly in their live briefs to keep my work fresh.
I live with my handsome husband and our two daughters in a 60s bungalow with a little garden in the idyllic city of Oldenburg in Northern Germany.
You can read more about my creative process in this interview on the RiseDesignandShine blog and this Designer Feature on Patternobserver in coorporation with SURTEX.
Merken
Merken
Merken
Merken
Merken
Merken
Merken
Merken
Merken
Merken
Merken
Merken
Merken
Merken
Merken
Merken
Merken
Merken