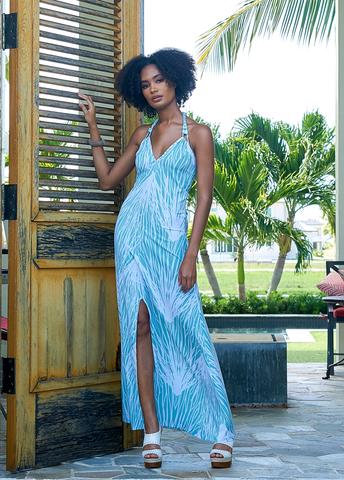 As you might have guessed from my artwork, there is nothing I like designing more then tropical prints. Let me tell you a little story from my designer's life. One day in mid-November 2016 (like Nothern Germany grey rainy cold November, actually we had had the first snow that week) I came across an e-mail that had landed in my spam folder (that I nearly deleted) titled 'Interested in a tropical print collaboration?' That was not a spam mail. It came from Isy Obi from Isy B. Design, a fashion designer from the Cayman Islands – could it get more tropical? Isy B. designs luxury Caribbean fashion and resortwear and Isy Obi won the title of Lifestyle Designer of the Year at Phoenix Fashion Week 2016. Can I say that I was more then interested!
Thanks to our modern world of e-mail, Skype and WeTransfer (and some good old post service to send a spool of thread in just the right colour we needed for the designs from the Cayman Islands over the pond to Germany) we communicated about the print collection, style, customer, revisions, testprints, production and, and and … (hello, steep learning curve!).
Isy B. asked me to design a 'Mermaid Collection' for summer 2018, consisting of 4 placement prints for kaftans and T-shirt dresses and one more abstract allover print for dresses and other garments. We agreed on seahorse, coral, seaweed and mermaid tail prints.
These are the kaftans:
And the T-shirt dresses:
The allover print is an abstracted mermaid tail with more underwater elements in a tropical colour palette:
The graphic turquoise/white seaweed print also made it unto a couple of garments for a relaxed and luxurious look:
You can see more of Isy B. Design's fashion on their website  and here is the link to her 2018 Lookbook. And I am more then happy to announce that we have officially started working on Isy B. Design's new fashion collection for 2019.
And wow! Tennis champion Caroline Wozniacki is wearing one of our creations!