I love a good collaborative art session and I count myself very lucky that I have my art buddy Doris Reske living and working with me in Oldenburg and that we have our monthly  Co-Lab painting sessions together – like our fun last one, the first one of 2016.
Last year I took part in Alena Hennessy's online painting course A Year of Painting 2 with monthly painting lessons. One of this lessons was a collaborative project where we could work together with other painters from the course, an inspiring creative pool from all around the world. I teamed up with Navneet Khalsa, an artist and Kundalini Yoga teacher from Tucson/Arizona. We had connected before, with both of us being KY teachers and a love for a certain colour (pink). From our online conversations she seemed like a gentle, sensitive and generous spirit and this impression was pleasantly strengthened by the bundle of papers that I received in the mail a couple of weeks later.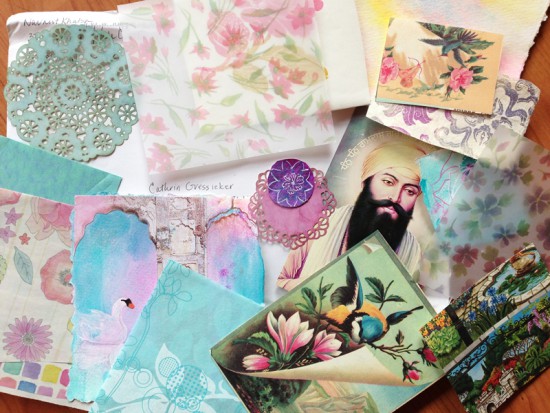 Navneet's paper collection – some beautifully hand-painted in watercolour by her, some carefully selected, was really so generous, that when I started to move the papers around, I felt that these could turn into a series.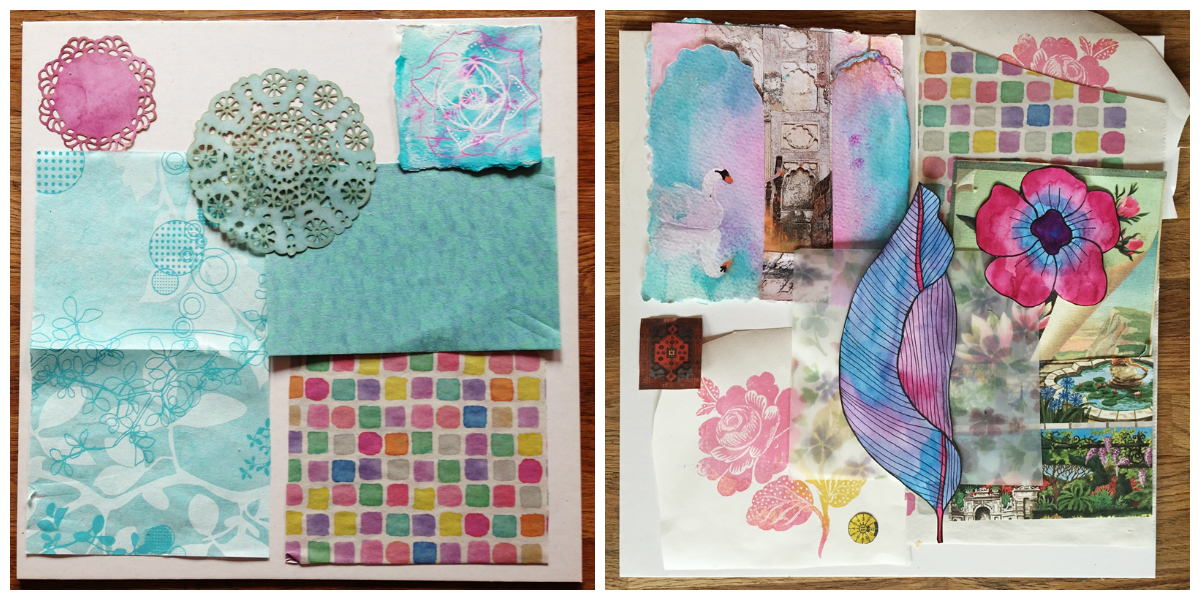 And I also wanted to be careful with her papers and their gentle nature. I am usually a fan of bold colours, but I wanted to preserve a lot of Navneet's spirit and not just start painting over her papers. The collage technique seemed appropriate for this project, where I could add some of my papers and artwork on top. I had a lot of tropical watercolour sketches from my tropical pattern collection lying around in my studio and decided to use these. Plus some gentle watercolour washes, photo art of mine (from a trip to Rishikesh/India), image transfers and cut-up poems. Adding these pieces carefully over the course of a couple of weeks, from November until January, step by step a triptych emerged.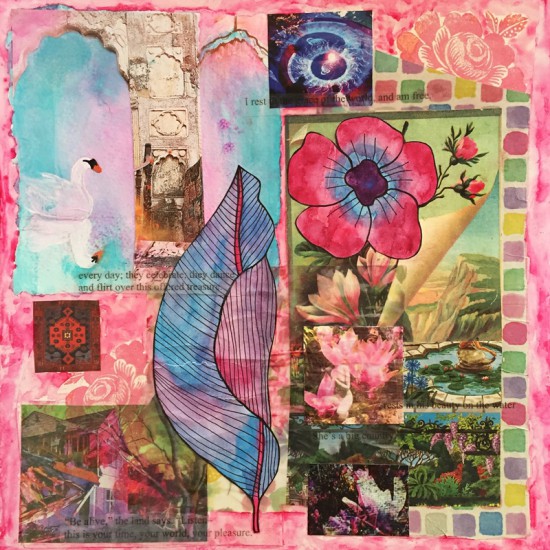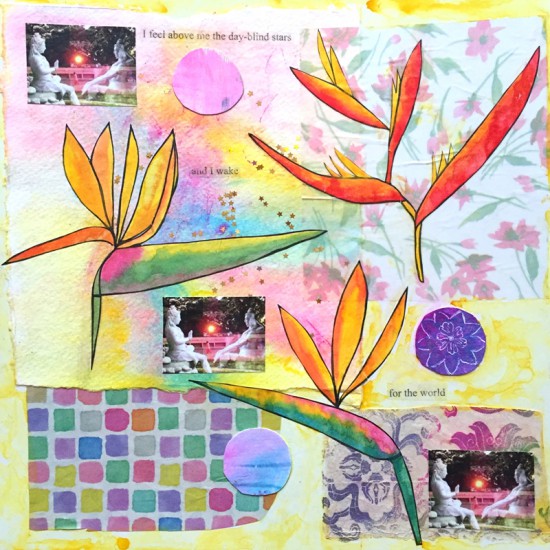 Each of these pieces has its unique feel and still they feel like a cohesive series. I once read, that a piece of art is finished when you can see yourself in it. This makes finishing even more interesting, when the material you start out with is not even yours. But maybe it is as easy as the First Kundalini Yoga Sutra for the Aquarian Age: Recognize that the other person is you. What a great time we live in, for its creative possibilities, that start online and manifest all the way from Tucson/USA to Oldenburg/Germany.