February started with an exciting trip to Munich for me – I took a night train down from Northern to Southern Germany to attend the Munich Fabric Start textile trade fair.
It was a cold rainy day, but that didn't matter for a second, as I spent a whole wonderful day at the trade show. Walking the booths, soaking up the immense amount of inspiration and beauty (I felt like Alice in Textile Wonderland), listening to trend seminars, talking to other designers and making connections for freelance work. Amidst a sea of black-dressed professionals, I floated around in my pink flower dress and before I could feel out of place, got complimented on it. After all, it was a trade fair for spring/summer 2017 and that could do with a bit of colour power. I felt where I belonged to be.
There were a couple of trends that stood out – probably flowers are always on trend, as they make up 70 percent of the textile market. That's good news for me. The indigo and ocean-based trend is also still going very strong, evoking a spirit of calmness and holidays. Speaking of holidays, the tropical trend was huge! From jungle-like leaves patterns to more floral motifs, I saw a whole lot of them.
Last month my collection Tropical Glow was already based on the tropical trend, in its iridescent nocturne version. And now for February I can show you another tropical collection. At the same time as I was designing my Tropical Glow collection, I thought it would be fun to develop a collection that was based on a beautiful tropical day. And so Tropical Glee came together.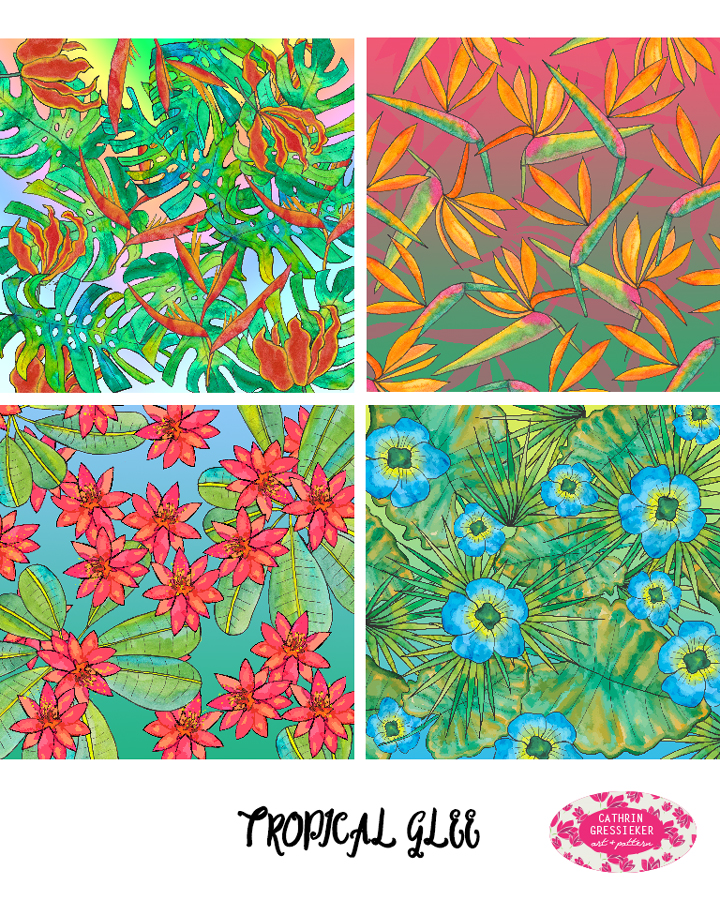 All the elements of the collection started out with pen and watercolour in a long sketching phase and were then put together in Photoshop.
And you know what? These tropical patterns might show up on shoes and sneakers soon, as might the Tropical Glow patterns. I submitted them to Bucketfeet for their Native Exotic briefing and got an e-mail this week that these patterns made it past their initial screening phase and are now going through in-depth valuation and maybe production. Fingers crossed and stay tuned!