Like I said in the snowflake pattern post 3/52 – flowers are great for wallpaper all year round.
One of the first exercises in Module 2 of The Art and Business of Surface Pattern Design was to simply find an item in your living room and make a sketch of it. I chose this flower on a print my mother had given us when we moved into our house 2,5 years ago.
And then I started playing with it in Illustrator. I am forever grateful for learning how to make repeating patterns in Jessica Swift's Pattern Camp, where she completely demystified the whole process, so you are able to create your own patterns after one weekend. This is a straight repeat here (also called box repeat):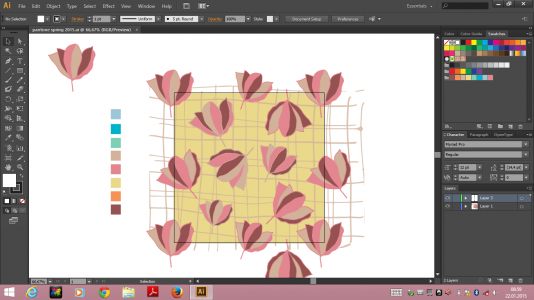 For the colour palette I decided to use some of the Pantone spring colours again that I had discovered in Pattern 2/52. This time: Toasted Almond, Strawberry Ice, Custard and for the first time colour of the year 2015 Marsala.
For me the pattern has a retro feel and it says on the Pantone website that the palette evokes "remembrances of retro delights, folkloric and floral art". I don't know, whether the 1980s are already considered retro, but this flower patterns reminds me of the wallpaper in my parent's bedroom when I was child – and I didn't like it at all then, or maybe it was later as a teenager in my black phase.
Also from the Pantone website:" Many feel compelled to be connected around the clock because we are afraid we'll miss something important. There is a growing movement to step out and create 'quiet zones' to disconnect from technology and unwind, giving ourselves time to stop and be still…() … to create a soothing escape from the everyday hustle and bustle." I feel, I could relax in a room with such a wallpaper design.