About three weeks ago a lot of posts started showing up in my Instagram feed with people announcing their coming #the100dayproject, starting the next day on April 19. I had heard about the project before, thinking you can start doing it anytime (which you can do, of course!), but this time it was announced by Elle Luna and it quickly gained momentum. But I already felt too busy with all my other projects and couldn't quickly think of a project that I could squeeze in on top and enjoy. I enjoyed looking at the projects other artists were posting and that was it.
Then one week into the project, inspired by the super-lovely Faith Evans-Sills in her e-course Painting the Sacred Within (together with Mati Rose McDonough), I suddenly got excited. She did these beautiful watercolour studies, reducing her inspiration and the world around her to stripes, colour and shapes. I tried it and felt intrigued. This would become my 100-Day-Project! I had fun with experimenting with watercolour last month and looked forward to deepening my relationship with it. I bought myself a new fat watercolour brush, because new projects need to be celebrated with a trip to the art shop ;-), took a big cheap sketchbook and started.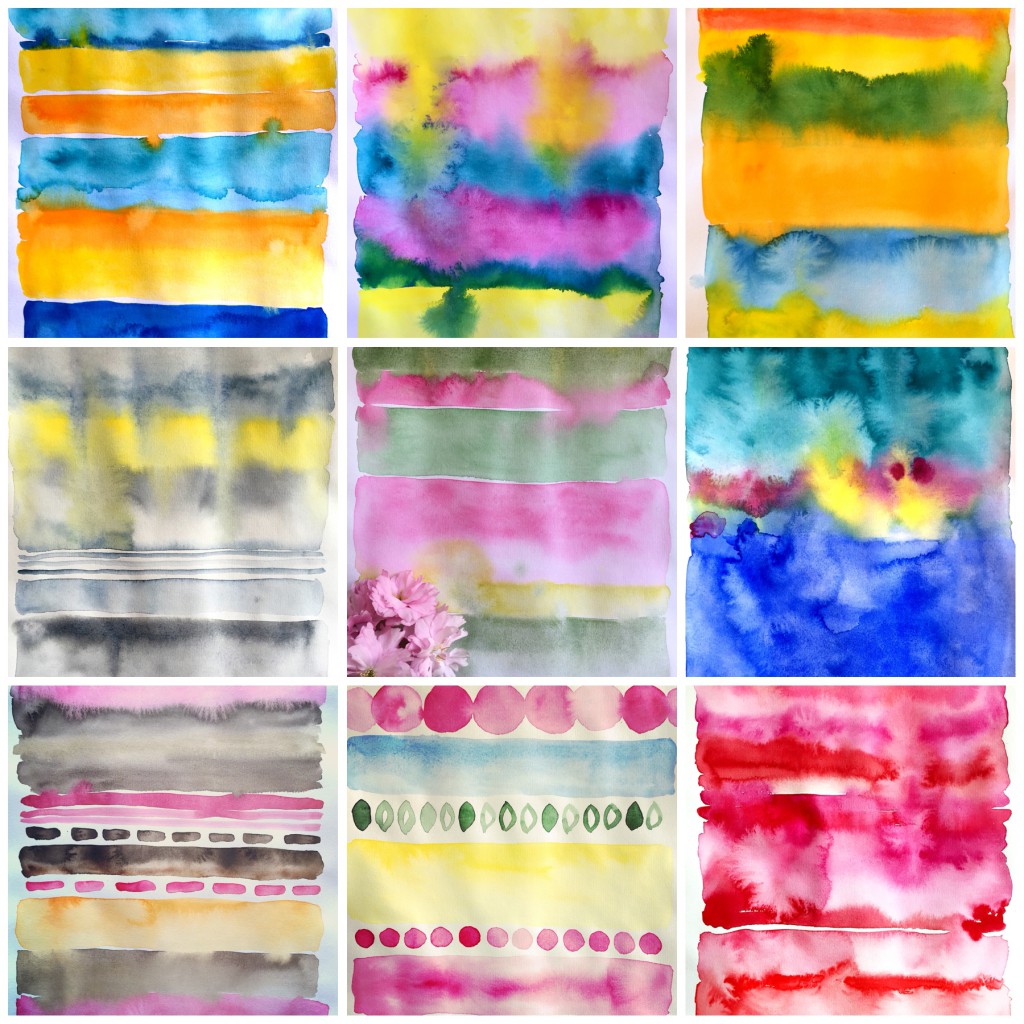 Today I am 14 days into the project. I totally love painting them. I decided to call these abstract paintings Daily Moods because that is what they are. Or more precisely Morning Moods, because I do them as one of the first things in the morning. I love starting my days like this now, it is like a painting meditation. What really came to me as a surprise is how different my moods are from day to day, I usually think, ok, I-am-kind-of-sleepy and that's it. But actually this is a very good time to paint, because my rational mind is also very sleepy and not critical at this time of the day. I simply start with colours that I am drawn to at the given moment and that reflect how I feel and what goes on around me. The colour of the morning sky is a major influence!
I love the fluidity of watercolours, because that very much resembles the flow of feelings and moods, and the happy accidents due to their watery nature. My afternoon moods would look totally different for sure. After a couple of days it came to my mind that what I was doing was very much Mark Rothko. This had not been my intention when I started out. But, you know, this is me, my life, my art and watercolours instead of oil and acylics. Or to quote writer Elisabeth Gilbert: "Everything's been done, but it hasn't been done by you."
You can follow me along on Instagram @cathringressieker with the hashtag #100DaysofDailyMoods. Or still join, if you haven't already. Because your 100 Days of … can start anytime.
Merken