If someone asked me, how I feel right now, I would say like this: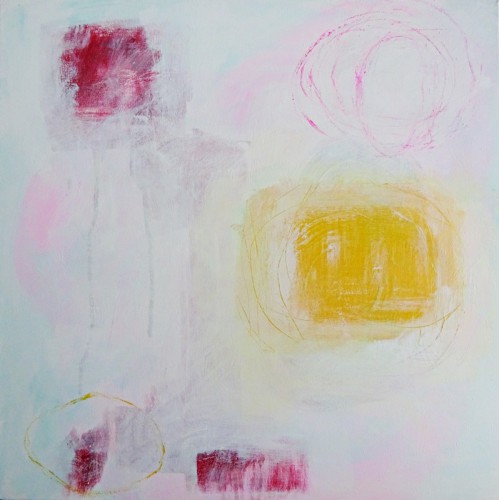 Usually I am very attracted to bold and bright colours, but recently I am quite drawn to a pastel palette. Must be the winter for me, when life feels somewhat subdued and inward. I have discovered two great (abstract) painters – Claire Desjardins from Canada and Anne Kristin Hagesaether from Norway (both two cold winter countries …), I really like looking at their paintings, the great colours, shapes and composition of Claire Desjardins and the brushwork of Anne Kristin Hagesaether.
My January painting started with a lot of red and a little pink and got toned down in the process.
Now there is a lot of white with shades of pink and turquoise, the dominant yellow square (here comes the sun, little darling …), squiggly shapes and I like how the passionate red leftovers peek through.
Quite a quiet feeling.