This week's pattern is again a by-product of the Make Art that Sells course Part B, its 5th and final week was dedicated to Party Paper – paper plates, napkins, paper cups, wrapping paper etc. Our inspiration – the mini – was Bavarian and Ukrainian folk art. Ok, I am half-German (but not Bavarian) and half-Russian (but not Ukrainian), so this had something of a homey feel. But – I wasn't at home at all, we were on our family trip in Amsterdam during most of the week. The good thing is, inspiration is everywhere. And the mini warm-up exercise gave me some kind of tunnel vision in the back of my head (if that's the right term) for our time in easy-going Amsterdam. You can see my inspiration from what I brought home from Amsterdam. The latest Dutch edition of Flow magazine had a great folksy illustration by Uzbekistan-born Dinara Mirtalipova in it and I remembered having seen her work in the German Flow magazine as well. Folk art is a lot about flowers and birds and the idea for the birds came flying to me while seeing the Matisse exhibition with this paper cutouts. Let's try a Matisse-inspired folk art thing! I took some coloured paper with me from the children's corner as I wanted to bring some original Amsterdam flavour home, plus a limited colour palette can be such a liberation also. My mind was set.
Back at home I started the manifestation.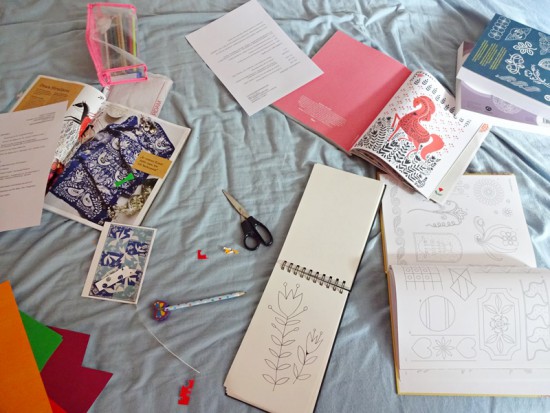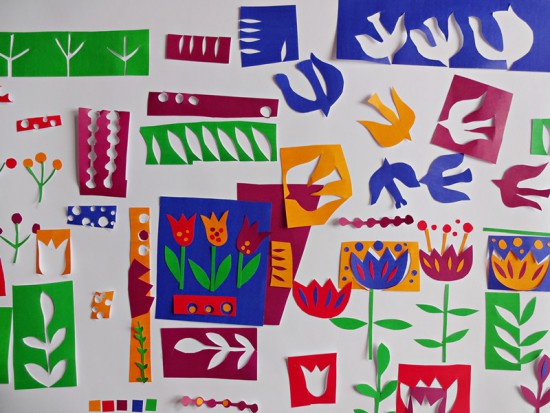 All my cutouts. And then I started glueing. A bit scary, so final. Here is the paper plate.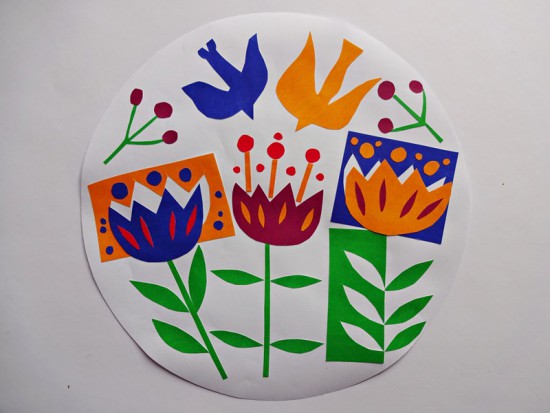 Over the course of the first day back at home I glued together this plate, a napkin and a cup. And then I scanned them all in and brought them into Photoshop for final tweaks and presentation.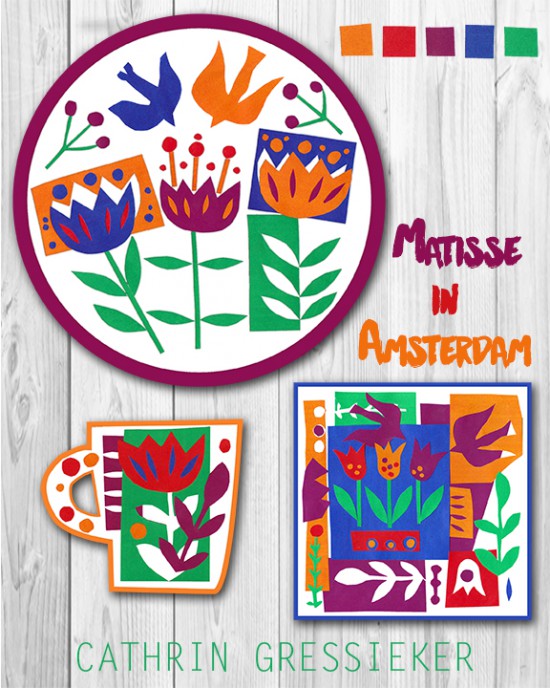 As the "fairy art mother" of the MATS courses Lilla Rogers says, you can reuse the art and icons for one market for other markets. And I did that for another upcoming Spoonflower contest "Flowers for Mom Border Print" – a floral border print design for Mother's Day. Here – at last, if you made it that far – comes my pattern of the week "Amsterdam in April":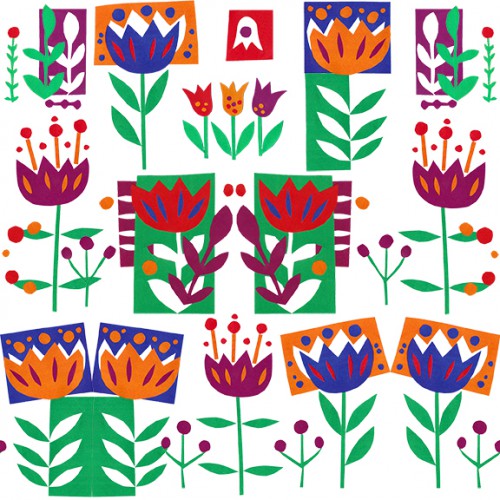 And tested on an apron template (the template comes from Jenna Frye's Skillshare class "Introduction to Surface Design: Creating And Mixing Patterns", that you could watch for free this week):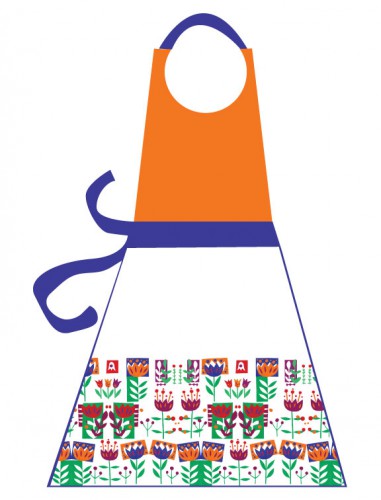 Looks pretty Dutch, doesn't it?
 You can enter the contest until Tuesday, April 28th. Voting will open on Thursday, April 30th.